⚡ Save 20% on Premium with code SAVE20 ⚡
Talent Q
Talent Q provides innovative online psychometric assessments, training and assessment consulting for every stage of the employee lifecycle
Updated:
Note: AssessmentDay and its products are not affiliated with TalentQ. Our practice tests are intended only for candidate preparation, not for employee selection.
About Talent Q
Inspired and developed by Roger Holdsworth (who previously co-founded SHL), Talent Q offer leading edge online psychometric testing and a new way of applying assessment to talent management. They have a robust, straightforward and accessible portfolio of assessments that offer unbeatable value for clients and a great candidate experience. Talent Q deliver solutions all over the world, tailored to client needs, combining online technology, blended learning and consulting capabilities. Their psychometric tests are available in over 40 languages and are used worldwide. Talent Q psychometric tests are held in high regard by employers and clients include Astra Zeneca, BT, Carlsberg, Citi, RBS, Royal Mail and Volkswagen. Talent Q offer the Elements Verbal, Numerical and Logical Reasoning tests as well as the Dimensions personality profiling tool. Elements is a range of 'adaptive' tests which adapt to how the candidate responds. Dimensions offers a range of outputs from a single completions including a trait profile, narrative report, sales report, derailer report and a type report equivalent to the MBTI.
Korn Ferry
Since 2014, Talent Q tests have been administered by Korn Ferry. Korn Ferry are a management consulting firm and part of Hay Group.
Talent Q ability tests
Elements is a unique, online ability testing system that measures verbal, numerical and logical skills. It can be used across all sectors, functions and graduate, professional and managerial levels. Elements measures three individual abilities:
Time Limit: Maximum 15 minutes for all Elements assessments.
Elements Verbal: This test measures your verbal reasoning ability, your ability to understand written information and to evaluate arguments about this information. Consisting of 15 questions the verbal test asks candidates to review the passage of text and assesses their ability to understand, interpret and use the information provided.
Elements Numerical: This test measures your numerical reasoning ability, your ability to understand tables of numerical data, as well as your ability to make logical deductions. Consisting of 12 questions the numerical assessment provides candidates with tables of numerical data and measures a candidates ability to understand, analyse and draw accurate conclusions from the data.
Elements Logical: This measures your inductive/logical reasoning ability, your ability to work flexibly with unfamiliar information and to find solutions. Consisting of 12 questions the logical reasoning test provides candidates with a series of shapes and symbols then assesses the candidates ability to recognise patterns and identify the correct next logical image based on the abstract information provided.
Problem solving tests: These tests have been designed to assess how accurately a candidate solves new problems. It will contain both numerical and verbal problems. These problems may involve, antonyms, deviation from category, pairs of concepts, verbal analogy, logical reasoning, series of numbers and simple/complex calculations.
Dynamic Assessment Technology
Talent Q's Dynamic Assessment Technology means that the Elements range provides a broad range of questions which span from easy to very challenging, with the questions each participant receives determined by their performance on previous questions. Individuals that answer quickly and accurately are progressed on to more difficult items, those that answer slower and incorrectly are progressed to easier items.
Talent Q personality questionnaires
Talent Q also provides personality and competency-based assessments, designed to ensure that a candidate's competencies and personal qualities fit with that of the employing organisation. As with all personality questionnaires, there are no right or wrong answers; they assess your preferences in the workplace and suggest your competencies based on these preferences.
The Talent Q personality and competency assessments, which are likely to be encountered in recruitment and development situations, include:
Talent Q Dimensions: Dimensions is an in-depth personality assessment which takes about 25 minutes to complete. This assessment will be encountered during the later stages of the recruitment process, or used for employee development purposes. Dimensions provides a broad range of information on an individual's personality including insight on how they will work with and manage others as well as providing information on how they will manage their emotions and energy. The survey provides information on an individual's personality broken down into 3 broad areas; People and Relationships, Tasks and Projects, and Drives and Emotions with multiple scales in each providing additional detail. The Dimensions tool is designed to be used across all sectors, and functions and levels and can be used to aid in selection, development and team building projects.
Talent Q / Korn Ferry Aspects: Aspects is a competency-based assessment designed to provide companies with a quick screening process, allowing them to sift out candidates who do not have the key competencies needed for that role. This assessment is only 8 minutes long and is frequently used for high volume recruitment.
Preparing for a Talent Q psychometric assessment
Talent Q have a dedicated website for candidates to prepare and gets advice for taking their Talent Q tests.
AssessmentDay also have practice tests which are similar to the style of psychometric tests employers use in recruitment. AssessmentDay have, amongst other types, numerical, verbal and inductive reasoning tests practice questions which is really helpful if you are a test-taker needing to prepare for taking a psychometric test. At AssessmentDay candidates have the opportunity to practice as much as they need to, ensuring they are given the best opportunity to show their true ability under test conditions.
Join the 600k test success stories!
Get a completely free starter account with over 20 tests included.
Try now for free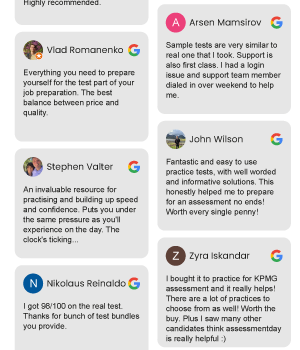 Other test publishers...
You may also be interested in these popular tests sections.