Aptitude Test Practice
Practise the tests employers use
FAQs
What is an aptitude test?
An aptitude test is an assessment used to determine a candidate's cognitive ability or personality. They're extremely common in job assessments as they can be used to predict the likelihood of a candidate's success in a job role, whilst eliminating any bias through its standardised administration. You are likely to encounter them in selection for all job sectors; however, they will be specialised to cater for the specific job requirements of the role.
What are the different types of aptitude test?
Aptitude tests come in many different forms due to the range of skills required for different roles. Generally, they fall into two categories: verbal and non-verbal. Common non-verbal tests such as numerical reasoning or inductive reasoning, assess your ability to handle numerical data, patterns and problem-solving. Verbal tests such as verbal reasoning, comprehension and situational judgement tests are focused on your ability to analyse verbal data and make astute decisions.
How do I prepare for an aptitude test?
The best way to prepare for a test and maximise your chances of success is to practise. Practise will help you identify patterns, recognise question styles, and ultimately give you confidence in your test taking abilities. We have practice material for all aptitude tests and have helped millions of job candidates over the world improve their score. Browse our test material and advice and join the tens of thousands each year that we've helped take that first step into their dream career.
The most successful candidates use us to prepare
Over 400,000 people have improved their test performance using AssessmentDay. Join them to beat the competition.
I used mostly numerical and logical tests, and they showed to be very helpful. I passed all the real tests. It was especially useful for the PwC assessment.
Excellent explanations in the answers plus tips for avoiding common errors. As revision exercises I found these most helpful and would certainly recommend them.
Great value for money! These tests really helped me build confidence for my assessment.
A near-perfect resource for practising and building up speed and confidence in recruitment testing. Gives you that same sense of pressure and focus like the real thing!
It's a great experience using the assessment exercises here. In 2011 my organization tested me with SHL. These tests help focus me.
Easy to use practice tests, with well worded and informative solutions. I use this every year from my annual professional assessments. Worth every single penny!

1000s of questions
Large bank of questions regularly updated with worked solutions.

Practise 24/7
Instant online access means you can practise tests anytime anywhere.

Improve
Practice reduces anxiety and improves your ability to perform well.
Tests taken on AssessmentDay
1,115,500 +
97%
Recommend AssessmentDay for practice
Practice Tests
Prepare for your online aptitude test with worked solutions.
For Employers
Find out who has the reasoning skills to work for your company.
Practice Improves Your Test Performance
With practice vs. without practice. Results of people's performance before and after practice show improvements of up to +25%. The scientific literature shows that 'practice effects' exist. It is reasoned that the reason practice effects exist is because candidates expend less mental energy dealing with the newness of the situation and have more free mental energy to allocate to answering the question.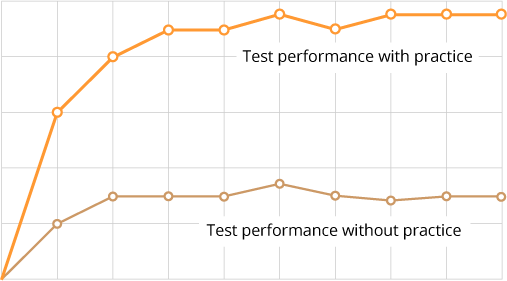 Online Application Guides
Check out our extensive job application advice, curate with the help of fellow applicants, for some of the top employers in the UK.
Popular Practice Aptitude Tests
Try some of our most popular practice tests.
Numerical Reasoning Tests
Test your ability to work with numerical data. Practice tests with solutions, tips and advice.
Verbal Reasoning Tests
Test your ability to reason with verbal information. Make assumptions and make logical inferences.
Ready to improve your score?
Join over 400,000 people who have boosted their online test performance
Practice makes perfect
We help you prepare for aptitude tests and assessments such as these. You can practise real tests and exercises including:
numerical tests, verbal tests, logic tests, reasoning tests, and much more. All questions come with fully worked solutions.