⚡ Save 20% on Premium with code SAVE20 ⚡
Strength Based Assessment
Strengths-based assessments are increasingly used in the recruitment process. Discover what they are along with some example questions.
Updated:
What are strength based assessments?
Strengths based assessments look at what your strengths are to discover the types of jobs that will best suit you as well as the jobs that you will find most fulfilling, and indeed the most fun!
It's important that employers use such strength based tools to find the roles you'll most enjoy. When you are a fit for the role and the role likes you, this is often called a "Match".
Strengths based assessments also give you a complete profile on:
The types of roles that most suit your personality
The industry sectors that most suit your personality
Advice on how to use your strengths
The types of strengths that you have
Individualised feedback on those strengths
Advice on applying for jobs
Strengths-based assessments are often in lieu of other reasoning tests by determining your competencies suitable for the role. It is important that a workplace is content in order to keep productivity high. If an employee enjoys what they do, or at least values what they do, then productivity will likely be higher. Therefore, finding employees who have a natural proclivity to the role, rather than someone who is uncomfortable and unwilling, is a desirable measurement for the organisation and an intrinsic part of the recruitment process.
Wanting to test candidates? We recommend Test Partnership for your recruiting needs
Strengths based video tutorial
Strengths based assessments are very similar to situational judgement tests, or sometimes called situational strengths tests.
Here is video tutorial going through a typical question from a strengths-based assessment. This question would look at how you would approach a given situation: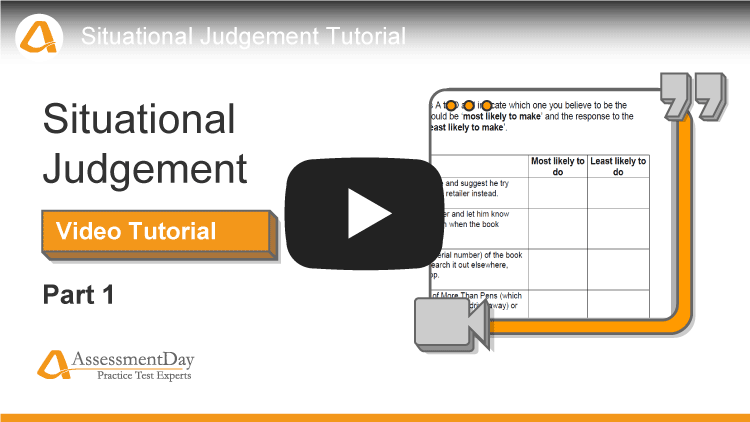 Advantages of strengths based assessments
A problem that can plague the reasoning tests, is that questions can be general and prescribed. This means that candidates can be difficult to compare as their personality does not show through that strongly.
For strengths-based assessments however, the way the candidates deals with the problem is important in determining their strengths. Therefore, the assessment can provide insight into the candidate and how they might function within the organisation. This adds some depth to the assessment. There is an honesty to the assessment that focuses on how the individual feels and what they think is the best solution to a problem.
While it can be difficult to practice for a strengths-based assessments, we have prepare some practice material that will help you learn how they work.
For HR / Employers
Assess candidates based on strengths.
Easy online setup
Find candidates' strengths
Improve quality of hire
Strengths Based Assessment