⚡ Save 20% on Premium with code SAVE20 ⚡
SHL Verify Interactive
Find out about SHL's Verify Interactive series and how it's different from other tests.
Updated:
Note: AssessmentDay and its products are not affiliated with SHL. Our practice tests are intended only for candidate preparation, not for employee selection.
About SHL Verify Interactive
There's been a shift in the psychometric testing market which started with the introduction of gamified assessments. SHL is one test publisher trying to improve the candidate assessment process. This has led to SHL introducing the 'Interactive Verify' series.
What is SHL Verify Interactive?
SHL Verify Interactive is SHL's newest test series. It attempts to leave the traditional assessments behind and move them into the modern world, with a format that is candidate-centered.
The SHL Verify Interactive series attempts to make the test experience more fun and engaging, whilst trying to replicate the tasks the successful candidate might be expected to perform in their new role.
Traditional assessments would not require the candidate to interact with the on-screen question/answer in ways other than selecting which of the answer options they believed to be correct.
SHL Verify Interactive now brings the questions to life and adds an element of interactivity (hence the name!) that wasn't there before.
Now candidates will be expected to:
Drag appointments into a schedule
Highlight days in a calendar
Join sets of characters into a sequence
Approve or Reject requests
Adjust pie chart percentages
Modify bar charts to match data given
Solve word puzzles to decipher someone's location
Rank by order a group of people
Colour different sections of a shape
These are just a few of the new tasks you will have to complete in SHL's new 'Verify Interactive' series.
What is the difference between SHL Verify and SHL Verify Interactive?
SHL Verify tests are traditional cognitive assessments testing a person's mental abilities, such as numerical reasoning, verbal reasoning, and inductive reasoning. The format of these tests follow the same format as traditional assessments, where you are presented with text and maybe images to accompany the question, and you must select the correct answer option. These sort of tests could also be administered offline by printing them off onto paper and you would be able to test the candidate to the same effectiveness, however this would not be possible for SHL's Verify Interactive tests.
SHL Verify Interactive tests do not have traditional answer options (A,B,C,D,E) but instead require the candidate to create the answer by manipulating on-screen elements, such as adjusting the height of bars, dragging people into specific locations etc.
The different types of SHL Verify Interactive tests
We've briefly mentioned how SHL Verify Interactive differs from the traditional forms of psychometric tests, so now let's take a closer look (you will find screenshots from our SHL-style interactive tests below):
Numerical Reasoning (Verify Interactive)
SHL Verify Interactive had two types of numerical tests which have now been split: numerical reasoning remains in the numerical tests, but the numerical calculations are now found in the Inductive test.
SHL Verify Interactive numerical reasoning focuses more on your ability to analyse numerical data. You will encounter a lot more charts (pie, bar, line etc.) and be asked to manipulate these charts in order to present the correct answer.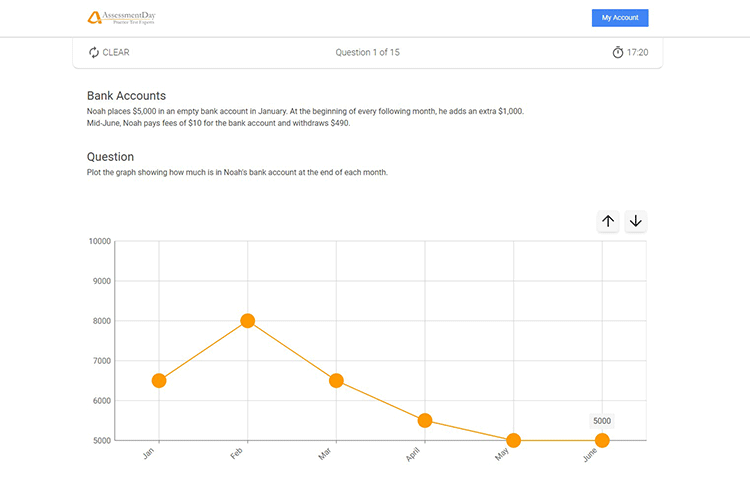 Numerical Calculation (Verify Interactive)
Numerical calculation will focus on quick maths, with more tasks centred around accounting and auditing.
One question may require you to handle refunds/receipts, then the next question could ask you to put a seemingly random number of letters and numbers into the right sequence.
Inductive Reasoning (Verify Interactive)
SHL's Verify Interactive inductive reasoning will test the same ablities as traditional inductive reasoning tests but, instead of a set of answer options to choose from, you will have to create the correct answer yourself.
You may be given a sequence of shapes that follow a pattern, it will be your job to analyse the sequence to work out what the next shape should look like. The pattern could be alternating of colurs, a translation of the occupied segment of the shape, a rotation, reflection, there are a few to look out for!
You will then have to manipulate the answer shape to look how you think the correct answer should look - this would be done by clicking the different segments of the shape to change its colour. The shapes could be stars or squares segmented in different ways.
The other style of question will ask you to finish connecting up a sequence of different sets of characters which share a pattern. The pattern could be that the next in the sequence starts with the same character as the last in the previous sequence, or the starting letter or number could increase by 1 or 2 each time, or decrease. There are quite a few sequences to discover!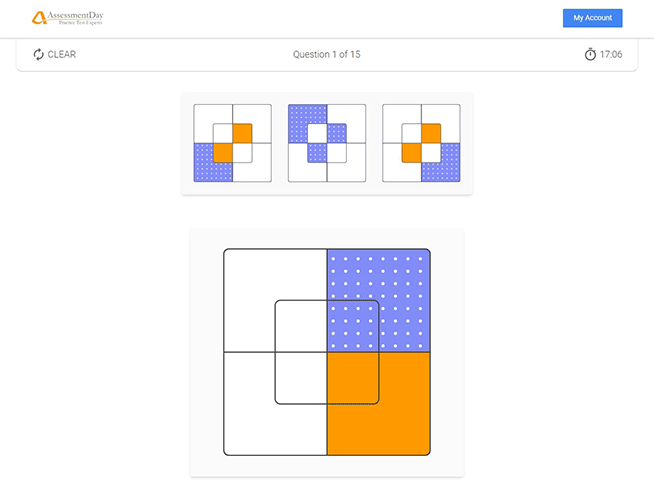 Deductive Reasoning (Verify Interactive)
The deductive reasoning test will analyse your ability to draw logical conclusions from data provided to you.
An example of a task you may face here is the aforementioned calendar schedule. You may be presented with a selection of availability dates/rules that you must follow to place your meetings in the correct order.
Others include occupying a schedule with tasks in the appropriate order indicated, or identifying a time when a group of people are all available to meet up.
You could also be asked to rank the order in which people arrive at a meeting based on a series of statements, such as "Tim arrives after Alicia, but before Jane. Jane is not first, etc..."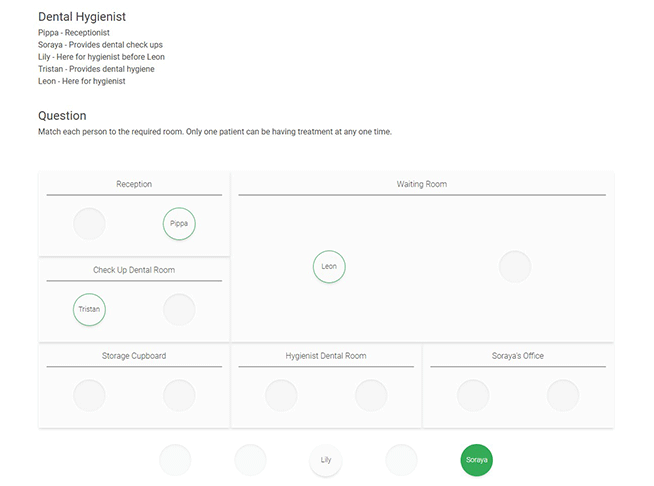 How can I practise SHL Verify Interactive tests?
Unfortunately for candidates, practise tests for SHL Verify Interactive are limited...
Fortunately, you can find practice tests with us!👏
We have 18 practice tests in total:
6 SHL Verify Interactive Deductive tests
6 SHL Verify Interactive Inductive tests
6 SHL Verify Interactive Numerical tests
If you are scheduled to face a 'Verify Interactive' test, then we would recommend candidates to ensure they are familiar with the format by browsing the SHL website where they promote their new test style.
87% of users aced their employment test in 2022*
Get a completely free starter account with over 20 tests included.
Try now for free
*According to our 2022 survey of 1486 users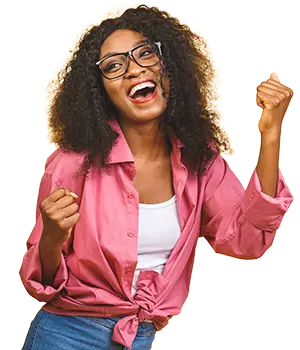 Other test publishers...
You may also be interested in these popular tests sections.