⚡ Save 20% on Premium with code SAVE20 ⚡
Our essential tips to landing a graduate job with no experience
Want to secure a graduate job but have no experience in the desired field? No problem! This article will get you on your way!
Start as early as you can
This part is mainly for those that are yet to graduate university - so skip this section if you've already graduated.
Ideally, you don't want to have graduated university and be looking for jobs with nothing to put in the 'work experience' section, however it's not a total disaster if that is the case. Part-time jobs, student jobs, volunteer work - anything you can do that shows you have a desire to work will look great to potential employers.
What's even better is if you can get work experience in your chosen field.
If your university course offers a sandwich year (year-long placement usually before your final year of studies) then I would suggest taking it. This will look great on your CV, they are usually paid (so it will help pay off some of your student costs too!) and the employer may want to take you on full-time once you've finished your course.
PRO TIP
If sandwich years are not possible with your course, then think about interning during the summer. I know what you're thinking: 'but I just want to chill out during summer, I've been working so hard!'. Internships can be a great way to get some valuable experience, you can get 1-3 month internships so it doesn't have to take up ALL of your break.
A lot of very large companies take on interns and so being able to have a very prestigious company on your CV (even if it was only for a couple months) will look great to future employers.
Use your current life experience
Okay, so you've got no real work experience but that doesn't mean you have absolute zero experience to lean on. It's important to think outside the box with your skills.
When a candidate doesn't have any direct work experience, I look to see if they've maybe volunteered or maybe undertook some side projects that demonstrated initiative and creativity.

Rachel, Recruiter
It's all about leveraging what you have done to your advantage. Think about any projects at university where you played an important role; maybe you were the captain of a sports team and demonstrated strong leadership and communication skills.
It's not always the activity of the story that's important, but what the story tells the listener.
If you can confidently showcase positive traits to an employer, then you're in a great position. And there's one key word in that sentence - confidence.
It's important not to be embarrassed by your lack of experience, but be confident and proud of who you are and your skills.
If an employer is unsure about you because of your lack of experience, he sure isn't going to be won over if you're not self-confident and don't believe in yourself.
Make use of graduate schemes
Graduate schemes are a great way to get into a big company. With grad schemes there is a good focus on your development and salaries are generally quite generous.
Lots of graduate employers understand that graduates won't have much experience, and so graduate schemes often only require you to meet their minimum degree requirements to apply.
A study by Bright Network found a disconnect in what candidates thought employers wanted vs. what employers actually felt. Here are the results: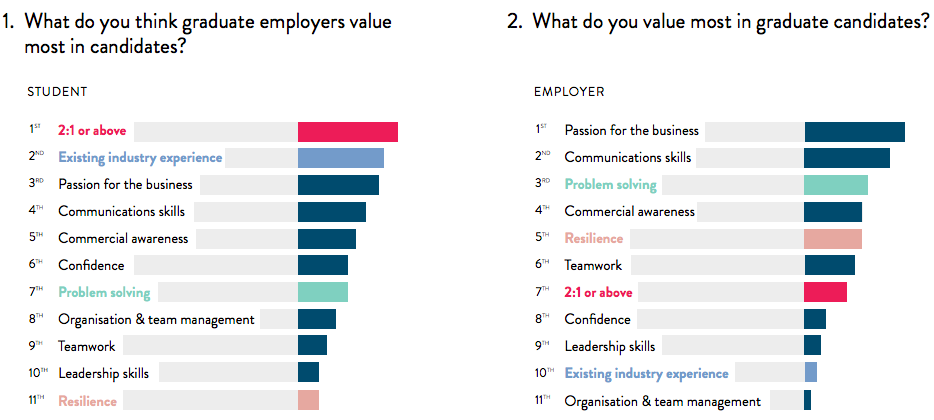 In most cases they require you to have a 2:1, sometimes a 2:2 is also accepted (depending on how competitive the graduate scheme is).
You will then be asked to take some online tests and maybe a telephone/video interview, before an assessment day to meet and assess the final candidates in person.
Throughout this process, it's super important to demonstrate your passion for the role and the industry. Other candidates are likely to have work experience so it's important for you to show great character and let your personality shine through.
However, grad schemes are certainly not the only path for graduates - they are very competitive with 100,000s of applicants applying for some positions and the various steps you have to go through can put off some candidates.
Join the 600k test success stories!
Get a completely free starter account with over 20 tests included.
Try now for free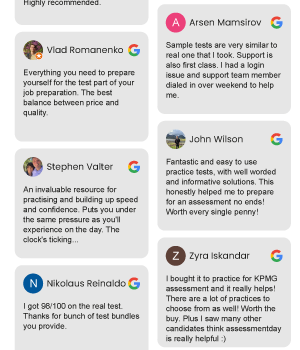 Big companies vs small companies
There are pro's and con's to working at big and small companies and I would suggest thinking about what's important to you before you decide the route you want to take.
Here is a short breakdown of some of the advantages and disadvantages, have a think about which seems most appealing to you:
Working for a big company
Advantages:
More perks and (on average) a higher salary - Depending on the role and sector, the salaries (and future salaries) are normally greater at larger organisations due to their extra resources. You can also expect extra perks such as gym memberships and healthcare etc for the same reasons.

More promotion opportunities - Larger companies have a taller structure, with more managerial positions meaning your potential for promotions will be greater than at a smaller company.

Highly ordered - Big companies run like a machine, there's set procedures. So if you like order and people following rules then this would be a plus.
Disadvantages:
Creativity may be stifled - Bigger companies are generally more risk-averse and the larger organisations will want you following the rules rather than making bold decisions.

Your hard work can easily go unnoticed, making it harder to get ahead - Large companies sometimes have a reputation for using graduates. With a larger number of employees, your hard work could be less visible to those making the decisions.

Just a cog in the machine - This is often a line thrown about when talking about people working for large organisations. You can be seen as just one of the many parts, which could make you more expendable.
Working for a small company
Advantages:
Greater opportunity for creativity - Outside-the-box thinking is accepted more by smaller companies, they are generally more willing to try out different ideas and strategies to try and grow.

More varied work - As there are less employees your role will generally be more diverse. You will be responsible for a lot more tasks and will, more often than not, be allowed to mould that role into your own. The skillset you will develop will be larger at SME's, this is great for design related roles or roles where there's various paths you could go down as you will be able to feel these out and decide which you like best.

Feel more valued - At SME's there is a much stronger family vibe to the workplace. With fewer employees, you all feel more connected. You will have a deeper relationship with your co-workers and boss – being viewed more as a person than a number can have some great benefits for your self-worth and career progression.
Disadvantages:
Less promotion opportunities - ME's have a much flatter hierarchy which means less promotion opportunities. It could be that you enter a role where there are no promotion opportunities (If the company does grow, however, any new employees will likely come below you which could mean you will assume managerial responsibilities).

Less resources - Smaller companies will not have the resources that larger companies have. This could mean that technology may be lacking, there will be less cash to fund projects, a lot of your training will be on-the-job and you will need to be pro-active in learning yourself.

Less benefits - Following on from SME's having less cash, this will also mean there will be less company benefits. You will likely have less access to health insurance, company cars, free gym memberships, etc. that can be acquired at larger companies.
Tailor your CV to the role
When applying for different roles, I would recommend tweaking your CV so that it is tailored to the role you are applying to.
Read the job description and make adjustments to your CV so that it is more aligned with what they are after. You want to be fulfilling their criteria, so include the keywords and skills they seek naturally in your CV - but make sure you don't lie about your skills, you still want to be truthful!
This is the skills section of a an available that was being advertised for a Marketing Graduate in London. I've demonstrated how you can use the keywords to enhance your CV/cover letter for this role:
Add a cover letter - don't be lazy!
If they allow you to attach a cover letter, always do.
It shows you care that little bit more about getting this job and it's not just another one of dozens you've carelessly applied to that day. It also gives you that chance to really sell yourself and demonstrate why you would be perfect for the role they have available.
Remember, they have an open position they want to fill with certain requirements for their new hire. Cover Letters are a perfect chance to emphasise why you would be perfect for this role and how you want to make a success out of it.
Key points
It's important to emphasise the passion you have for the industry and how you want to build a career in this sector.
Talk about some of the key skills/experiences you have that make you suitable for this role.
Try not to repeat your CV but bring something different.
You don't want to say empty statements like 'I'm very hardworking and diligent' without backing them up with evidence.
Make the cover letter look appealing to read by using shorter sentences or bullet points.
It may seem time consuming to do this, as well as editing your CV for different roles, but spending that little bit more time will be worth it in the future. Applying these tips you could soon be working your new job not worrying about having to send off any more applications!
Make use of LinkedIn (if you want)
I add those brackets because, personally, I'm not a fan of LinkedIn... this parody of the typical linkedin posts sums it up perfectly for me:
BUT... I do see its value for job hunting.
LinkedIn have a huge job board where you can browse jobs that may be of interest to you.
Did You Know
There is also a cool function where some jobs you can 'easy apply' which pretty much means you just attach a cover letter (optional) and the employer will receive your LinkedIn profile with the cover letter as your application.
I wouldn't recommend this for the roles which you really care about because your application will look very simple and may be viewed as 'lazy' by recruiters or employers. Only use easy apply if you just don't have time and aren't that fussed about the role.
So if you want to: set up a profile, make sure all the info is correct and up to date and do some networking!
The application process
So we've covered all the main tips I wanted to share with you, but lastly, I just wanted to cover the application process so you are aware of all the potential parts so you can be prepared.
The general steps:
Submitting an online application - This would be submitting your CV and cover letter, or with graduate schemes you normally have to fill out all their online forms about your grades and education etc.
Completing online tests - You will have to complete psychometric tests for graduate schemes, and it is becoming more common for smaller companies to make use of psychometric tests to assess your cognitive ability. We would strongly recommend becoming an expert by practising these tests so you easily pass this stage and leave a strong impression with your potential future employer.
A telephone or video interview - Once the employer has slimmed down the candidate pool, they will then likely conduct a telephone or video interview to further assess whether you will be suitable for the role.
An assessment centre and/or a face-to-face interview - The final step before landing any job is a face-to-face interview. Here they will be able to meet the real you and get a good understanding of what you're like and whether you are suitable for the role. With graduate schemes, these interviews will take place at an assessment centre with other candidates whom you are expected to complete group tasks with.
Don't leave your future career down to chance!
Get a completely free starter account
Over 20 tests
Track your progress
Start Improving Now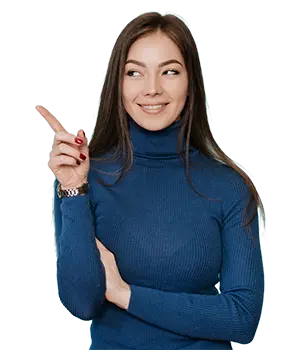 Additional psychometric test resources
We have lots of specialised and specific psychometric test advice waiting for you. Simply navigate over to our resources section where you can find all of our test advice, or click on one of the following links you may find useful: