FDM Group Strength-Based Tests
FDM Group is a UK based global business consultancy provider with a particular strength in the IT sector. FDM recruits, trains, and deploys consultants in disciplines including:
Business Analysis
Business Intelligence
Data Science
Information Security
Technical Operations
Project Support Office
Project Management
Risk, Regulation and Compliance
Salesforce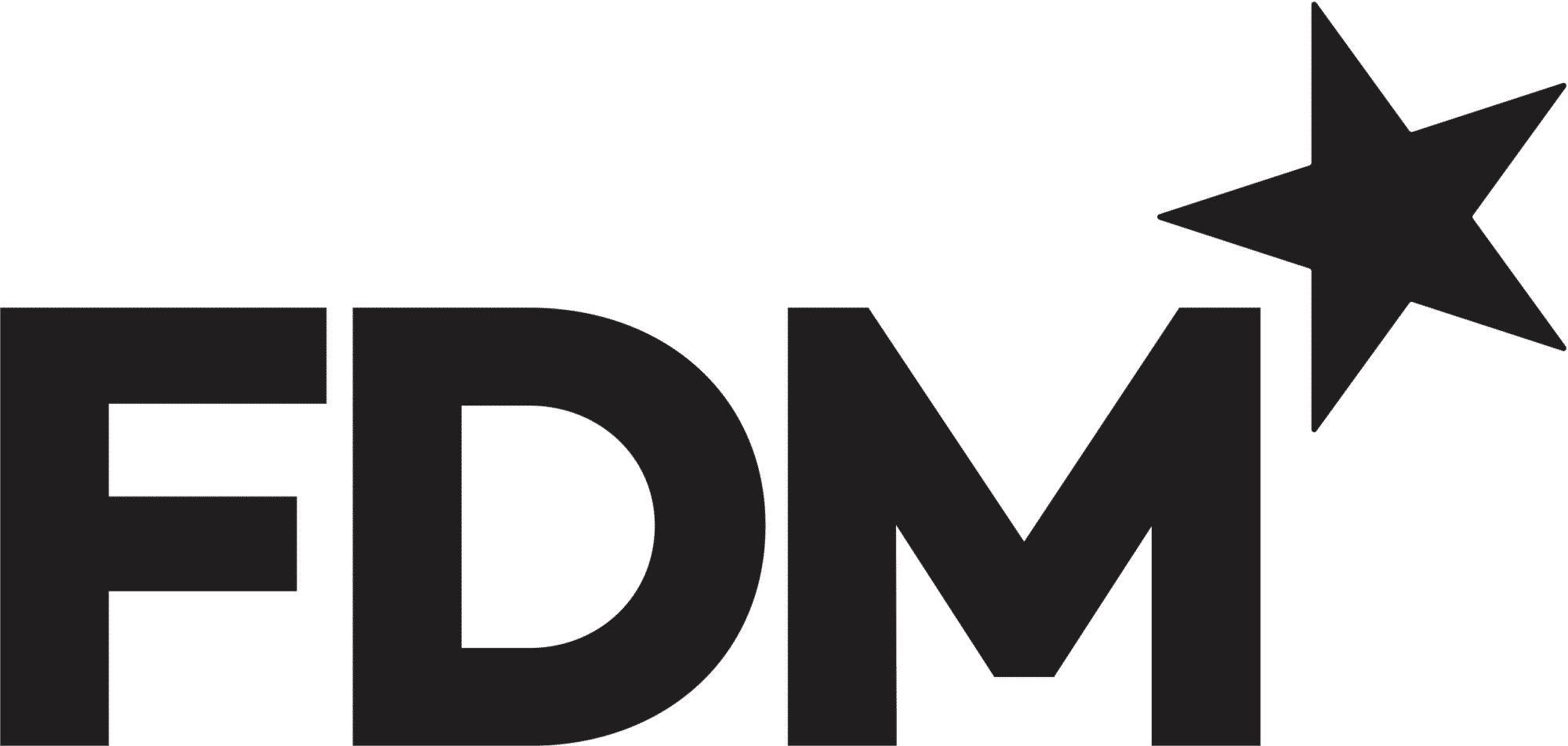 FDM Group use the following tests in their selection process:
Numerical Reasoning Test
Situational Judgement Test
Verbal Reasoning Test
Personality Test
About FDM Group Personality Reasoning Tests
FDM have two primary intake programmes. The FDM Graduate Scheme and the Ex-Forces Programme. They also run a Getting Back To Business programme for those returning to the workplace after a break (e.g. childcare). FDM are an award winning FTSE 250 employer.
FDM Group Application Process Stages
Here is the typical process for your application to FDM Group.
Overview
Recruitment Process
As with most large corporations, you will first be required to submit your CV and thereafter, if successful, you will be required to do a telephone interview. If you have been successful during these pre-screening assessments, you will be invited to attend an assessment centre for interview.
CV
Telephone
Assessment Centre
Both the graduate and forces programmes follow the same three stages but with different assessment criteria.
Stage 1
Application with CV
Your CV is the key to the door so make sure it is top notch. To ensure that you are making the best impression possible, consider using an online CV builder and make sure to have it proofread. Do not overlook the importance of this. Poor spelling or grammar can doom your application before you get started.
Stage 2
Telephone Interview
FDM Group conduct thousands of telephone interviews every year. Knowing that, and the fact that there may be hundreds of applicants for your position, can be a bit overwhelming. That is totally understandable. So how do you stand out from the crowd and earn an invitation to an Assessment Day? In a word, preparation.
This is how to prepare for an FDM phone interview.
Do your research. Know the company, its history and culture. If you know who is going to interview you, see if you can learn about their background. Check them out on Linkedin. Look at the company's online channels to learn about any recent company news and get a feel for the company culture. Having up to date knowledge about the company will help you avoid giving generic answers.
When discussing the position, be sure to match your skills to the specific requirements of the role.
Have your written material to hand including your CV, notes on the role and notes on the company.
Make sure the location you pick for the interview is quiet, comfortable and has a strong phone reception.
The tone in your voice is everything so bring some warmth and energy to it. Remember, when it is just a telephone interview, you are without a lot of weapons. No professional suit, no winning smile, no empathetic body language. Use your voice to good effect.
Typical FDM telephone interview questions include.
"Tell me a little bit about yourself" Show your personality. "Why are you applying for this programme/role?" Demonstrate how your skills match the role. "What do you know about the FDM and the role?" Demonstrate that you have done your homework. "Why do you want to work for us?" Look beyond pay and benefits. "Can you take me through your CV?" Bring your CV to life and highlight your achievements. "What led you to choose your degree and in hindsight was it the right choice?" "Where do you see yourself in 5 years?" "Do you have any questions for us?" Explore if the company/role is right for you.
Keep answers short and concise. Prepare and rehearse your answers to the FDM telephone interview questions
The telephone interview should take about 15-20 minutes.
Stage 3
FDM Group Assessment Day Interview
The information here is based on the approach of FDM in the UK. It may vary in other countries. The UK the assessment centres are in London, Leeds and Glasgow.
There are variations between the Graduate and Ex-Forces general assessments and further variations if, for example, you are applying for a specific position.
Excellent variety of practice tests ranging in difficulty levels. Really helped me feel prepared for, and pass, my actual online tests.
The Layout of the Day
Welcome Presentation
Tour of the FDM Academy and internal office
Interviews
Numerical Sequences Test
Verbal Reasoning Test
Set Notation / Venn Diagrams Test
Aptitude Test/li>
What do you need to bring on the day of your assessment?
You will need to bring a form of ID and proof of your degree certificate with you, which you should present at reception upon your arrival.
What type of questions will you be asked?
FDM use "strength-based" interviews in order to assess a candidate's potential against the strengths that make a successful FDM consultant.
You must answer the questions honestly giving as much detail as possible, providing examples where relevant.
FDM encourage you to practice some strengths-based questions prior to your interviews.
Examples of strengths-based questions:
Would you be happy to compromise the quality of your work rather than miss a deadline?
Sometimes it is best to focus on tasks that you have been set, rather than worrying about the bigger picture. Would you agree?
Is organisational change at work always a good thing?
Interviews are generally held with three separate FDM managers and only last about 5 minutes each. Do not be too concerned about technical IT aspects of your answers. The interviewers are more interested in seeing your potential.
You may have heard of the STAR method of structuring your interview answers and we would recommend that you use it, especially when answering more open ended questions such as, "Give me an example of ………."
Situation: Set the scene and give the necessary details of your example
Task: Describe what your responsibility was in that situation/li>
Action: Explain exactly what steps you took to address it
Result: Share what outcomes your actions achieved
Some tests you will encounter:
Numerical Sequencing
The standard version of this numerical test is based on numerical sequences and does not include mathematics such as equations and formula-based questions.
However, depending on your track, you may also be expected to take a basic maths test with questions based around, percentages, fractions, solving equations etc. So it is as well to brush up on your basic maths.
How difficult are your tests?
The same difficulty as real tests. Generally real employer selection tests don't differ that much in terms of difficulty which is why they compare your score against norm groups. Our practice tests are pitched roughly at graduate level, but this means they are actually suitable for preparing for all levels of job: entry; apprentice; graduate; senior; director.
Verbal Reasoning
The verbal reasoning test includes several passages to read through and answer related questions. In order to interpret the passages, it is important to take your time.
Set Notation
This involves interpreting data and Venn-diagram tests. A course booklet is provided to refer to throughout your test which includes examples of how to answer the questions.
Aptitude
The aptitude tests include multiple choice questions based on IT, business, and logical questions. There are no trick questions within the test, so do not leave any questions blank and take an educated guess as the test is marked positively.
Final Top Tips from FDM for your FDM Assessment Interview
Dress in business attire to give a good first impression and to get yourself into the right mindset.
Arrive at reception 15 minutes early to get yourself settled and ready for the assessment centre.
It is important to remember that you are not competing with other candidates in the assessment centre. If all candidates are successful on the day, you will all be offered a place on the programme.
Practice online tests beforehand to get an idea of the types of questions you may receive and use this as an opportunity to practice your timings.
The FDM assessment centres are in city centre locations with great public transport links. Map out your journey the day before to minimise stress levels on the day.
Engage with all members of staff that you meet throughout the day; it is a good way to get an understanding of the business.
Ask questions. The Assessment Centre Coordinators and interviewers will be more than happy to answer questions you may have throughout the day
Similar profiles
You may also be interested in these popular companies.
Ready to improve your score?
Join over 400,000 people who have boosted their online test performance
Or have a look at our free practice tests