Testimonials
"I used your e-tray for Deloitte audit and it was very useful, thank you. Mine was about the same difficulty as yours and it did help."

"There aren't many in tray exercises to try but I looked at them all and yours I found the most useful!"

Accenture Applicant
ACG Programme
"Very similar to the Civil Service e-tray I had to take - good work guys"

Civil Service Applicant
Fast Stream
Some of the tests we have helped customers prepare for
Barclays
Deloitte
Virgin
Tesco
Citi
HSBC
Bank of America Merrill Lynch
Hogan Lovells
Travers Smith
Atkins
FAQs

Are these suitable for preparing for the Deloitte e-tray?
Yes; we have two e-trays and one is similar to the one published by Cubiks. The other e-tray is the same email foramt but instead of ticking multiple-choice answers, you have to type your email response, which will prepare you for the other style of e-tray employers use.

Do I get worked solutions?
Sort of. Since in-trays and e-trays can have more than one 'right' answer, we give you recommended model responses and scoring guides so you can see for yourself the kind of responses employers are looking for.

What's the difference between your in-tray an e-tray exercises?
The in-trays are in PDF format while the e-trays are an online inbox simulation. Each exercise is separate with separate scenarios, so in effect you get four exercises in this pack.
What you will get with the In-Tray & E-Tray Pack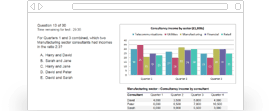 Two PDF in-tray exercises which are just like the ones used in employee selection.
Two separate e-trays which run online and work like an email inbox with emails you have to respond to.
Recommended answers and scoring to our four practice exercises.
12 months online access.