Testimonials
"I recommend the AssesmentDay verbal tests because they are a little more difficult than the tests that I had to take during my application."

Mazars Applicant
Banking Consulting
"These tests were exactly like the one I had to sit. Excellent package to invest in!"

Atkins Applicant
Graduate Engineer
FAQs

Are these suitable for preparing for SHL tests?
Yes; we have used ex-SHL assessors to help write these practice questions. They also suitable for Kenexa, Cubiks, Talent Q, and Saville Consulting.

Do I get worked solutions?
Yes, you get fully explained solutions to every question so you can see the correct workings.

How long do I get access for?
12 months. In that time you can take the tests online and download PDFs as many times as you want.
What you will get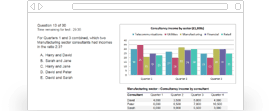 Online interactive practice tests.
PDF downloads so you can practice offline.
fully-explained solutions to every question.
12 months online access.
Automatic updates to questions.