Testimonials
"The SHL questions were about the same difficulty as the ones on your website and very similar in style and format. I just found out that I passed the tests - thank you so much AssessmentDay!"

Barclays Applicant
HR Graduate Scheme
"These tests were exactly like the one I had to sit. Excellent package to invest in!"

Atkins Applicant
Graduate Engineer
Some of the tests we have helped customers prepare for
Barclays
Deloitte
Virgin
Tesco
Citi
HSBC
Bank of America Merrill Lynch
Hogan Lovells
Travers Smith
Atkins
FAQs

Are these suitable for preparing for SHL tests?
Yes; we have used ex-SHL assessors to help write these practice questions. They also suitable for Kenexa, Cubiks, Talent Q, and Saville Conslting

Do I get worked solutions?
Yes, you get fully explained solutions to every question so you can see the correct workings.

How long do I get access for?
12 months. In that time you can take the tests online and download PDFs as many times as you want.
What you will get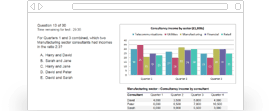 Online interactive practice tests.
PDF downloads so you can practice offline.
Fully-explained solutions to every question.
12 months online access.
Automatic updates to questions.